The Adidas Originals Superstar has been celebrating a bit of a comeback since early last year. For Spring 2016 the iconic sneaker with the shelltoe makes a return with a real 'kick.' When you're running around and on the go, why not slip into a pair of super-popular Adidas Superstars, and bring out the "Superstar" in you. Here are five ways to wear your favorite sneakers.
The Adidas's have a soft cushy inside, that's easy to remove and wash. For Mother's Day, I got the Apple Watch, and I'm really enjoying it. My favorite thing is when it alerts me to 'Stand Up and get moving' Motivation is always a positve thing.
Women's feet are weeping for joy thanks to the fashion world embracing sneakers. Welcome to the world of real flat-on-the-ground, high-top, low-top, lace-up, slip-on, sneaks. The best part...you can wear them with absolutely everything, including skirts and dresses. J.Crew T / Vince Skirt / Hermès Twilly / Adidas / Chanel Purse / GIgi Clozeau Necklace /
When you're traveling around and it's a little hot and humid outside, most times when you step into a restaurant you'll get a nice blast of AC... I like to take off my scarf (belt) and wrap it around my neck. Instant warmth while enjoying your Rosé. Adidas / J.Crew Shorts / Hat / Uniqlo top/ Chanel Bag /
Price-wise, you can't go wrong with J.Crew shorts, a fedora and Uniqlo classic button down top. Uniqlo has great linen tops, a smart staple for your wardrobe.
Lately, my go-to outfit for running around, especially when traveling is my favorite leopard print dress from Equipment and my Adidas's. Sneakers are ageless and comfy. Urban chic, tres chic, comfort chic... YSL Clutch
Check out Lyn Slater, of Accidental Icon, and you can read about this fashionable 62-year-old woman rocking her sneakers and inspiring you with her style and wisdom.
Companies like Adidas, Chanel, Lego, and Burberry have lived through many phases. Each of these brands is rich in history, memories, experiences and have always stayed Innovated. The past can always be a source of inspiration, whether in business or personal it has the potential to add value.
The great plus of stylish sneakers is a comfort, sophisticated look, and relaxed chic vibe... I see my friend here is an admirer of sneakers too. Valentino Clutch
Hermès Scarf / Valentino Clutch
Classic Adidas sneakers and trainers are back into the world of fashion. I think it's needless to say; you need to head out the door and get yourself a pair immediately. Have fun with your wardrobe; I was a bit skeptical about sneakers with a dress...not anymore. My feet are happy, and these sneakers are keepers. Ciao for now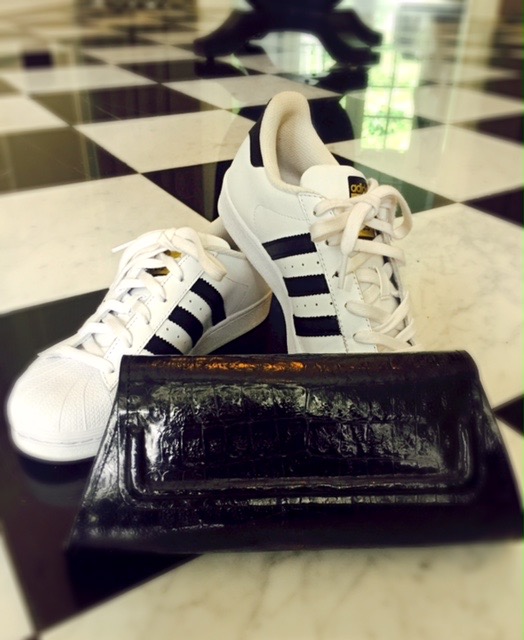 Adidas / Reyna Icaza Black Croc Clutch - Fantastic Prices @ Reyna Icaza / J.Crew Hat / Hermès Twilly / Chanel Sunglasses /
"I am a fashion person, and fashion is not only about clothes -- it's about all kinds of change" Karl Lagerfeld
SHOP THE POST BELOW- SIGN UP FOR LIKEtoKNOW.IT AND FIND ALL OF YOUR FAVORITE WARDROBE PIECES AVAILABLE RIGHT NOW.