Welcome to the Virginia Robinson Gardens 28th Annual Garden Tour. This year's event De Colores is a perfect fit for the Robinson Estate. The Virginia Robinson Gardens was the first luxury estate built in Beverly Hills and was the opulent private residence of retail moguls Virginia and Harry Robinson—of Robinsons Department Store fame. Constructed in 1911 by Virginia's father, architect Nathaniel Dryden, the palatial estate and gardens once played host to lavish Hollywood parties that courted the legendary likes of Fred Astaire, Charlie Chaplin, and Sophia Loren. While feted for her hostessing prowess, Mrs. Robinson was equally renowned for her philanthropic endeavors. The Hollywood Bowl was a purported particular favorite, and in her role as Benefactress, Mrs. Robinson frequently hosted the orchestra on the estate's Great Lawn.
Dana Reston Lyons' roots with the Virginia Robinson Gardens run deep. The Co-Chair of this year's 28th Annual Garden Tour says her passion for the unique blend of horticulture, art, and design that the historic estate in Beverly Hills offers began with her childhood visits to the botanical wonderland. This photo says it all...when you enter the property, you can't help but feel the desire to surround yourself in a field of flowers. Join us this Saturday, May 14th - tickets are available on-line. Dana is wearing a top from Etro / jeans J.Crew /Necklace VanClef & Arpel /
Envision yourself on six acres of what life might be like in the countryside of Italy, but in the heart of Beverly Hils...just two blocks North of the Beverly Hills Hotel. Behind the gates, you will find an orchestra of flowers and an oasis of beauty. Open for tours only by appointment a few hours a week, It is worth the visit to see the history and feel the magic.
"My parents always took me on excursions to see beautiful gardens, grand estates and great art on our weekend outings and family vacations," says Reston Lyons, whose mother, Felice, volunteered with the Friends of Virginia Robinson Gardens in the late 1980s and early 1990s. Her mother's example planted the seeds for Reston Lyons' passion for the organization that has raised millions of dollars toward the restoration and preservation of the uniquely historic Robinson Estate. Final touches for the entryway are in progress before the doors open this Saturday, May 14th.
This years Annual Garden Tour will take place Saturday, May 14th and it's not too late to purchase tickets. May 14th marks the only day of the year the Virginia Robinson Mansion is open to the public, and also serves as the primary benefit fundraiser to preserve this well-manicured piece of Angeleno cultural history for generations to come.
Virginia and Harry Robinson / Robinson Estate 1911
Harry and Virginia met in Los Angeles when they were children. Their parents were friends and in the same social circle. Harry's family sent him to Europe when he was fifteen years old to further his education in culture and fashion. When he returned to the states, he reconnected with Virginia and shared their love for gardening and fashion. Over time, Virginia fell in love with fashion and eventually had a full-time seamstress living on the property. All the top designers from Europe would send over their latest patterns, to assure Virginia would continue to be the true fashionista. One afternoon Harry visited a pet store in downtown Los Angeles, and he noticed these monkeys in a cage, it was incredibly hot, and Harry felt they deserved a better environment than a pet store, so that day he left with the primates, and three generations later the rescued monkeys continued to enjoy the Robinson grounds. Harry graduated from Throop College...now know as Cal Tech. He passed away in 1932. After his passing Virginia opened Robinson Department store in Beverly Hills...Robinsons, in the heart of the city. She was known as the first lady of Beverly Hills. In 1977, Virginia passed away at 100 years old. Harry and Virgina left behind an incredible legacy and gift to the city and it continues to keep on giving.
Dana & her mom Felice in Queen Elizabeth Park Vancouver Canada 1969 / Dana & Felice at a garden party 1968.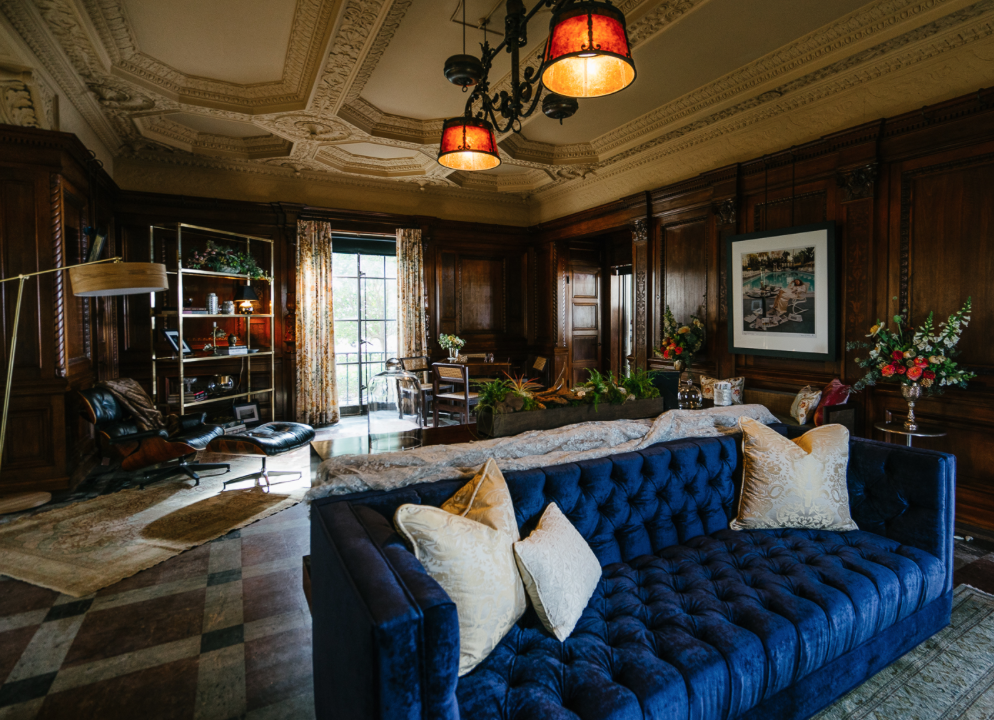 The floral affair will offer attendees fresh glimpses of themed landscapes, cocktails and lunch on the tented Great Lawn, an IRO Paris fashion show, and a bountiful boutique featuring Jo Malone's latest line of herbal and floral scents, as well as offerings from Sugarfina, Ted Baker, Lorna Jane, Michael Stars, and many more. Photo: Robinson Gardens
Gorgeous centerpiece. Photo: Robinson Gardens
Interior bathroom of Robinson Estate
Jo Malone's newest collection: The Herb Garden - Inspired scents from London's breath-taking gardens. From London to Beverly Hills... A perfect collection for this year's event.
Surrounded by beautiful roses, Dana appreciates the history of the Robinson Estate. Dana is wearing / J.Crew Jeans / IRO Jacket / Gucci Tian Princetown Slipper / Van Clef & Arpel Alhambra Necklace
Gucci's new floral designs make a perfect fit for this years De Colores theme. Gucci Tote / Gucci Moccasin
The greenhouse filled with elegant orchids is an extension of the Robinson home. Appreciate nature, be in the moment and enjoy your experience being surrounded in the orchid blooms J.Crew Jeans / Etro Top / Jimmy Choo Sneakers
In addition to maintaining the gardens, the Friends of Robinson Gardens also sponsor a very active outreach program with volunteers hosting an annual spring tour and science education program for underserved youth in Southern California. The Children's Programs educate participants about organic farming, sustainability, and healthy eating. Students also interact with plants growing in a vegetable garden, and they get to explore gigantic King Palm trees that tower 60 feet above them. Student field trips are led by trained docents who strive to keep the kids curious and engaged. The session lasts about two hours and ends with a souvenir of their own King Palm seedling so they can plant and observe it's growth over time. Virginia Robinson Gardens is listed as an approved field trip for the Los Angeles Unified School District.
For Reston Lyons, this aspect of her Co-Chair position represents the fruit of her volunteer efforts, "I love growing flowers, vegetables, and herbs in my own garden. Imagine being from the inner city and never having been able to run around in a garden." This years Co- Chairs / Kathy Choi - Dana Reston Lyons - Nicole Antoine - Diane Jenkins
Virginia Robinson Garden Tours can continue to live on because of passionate people like Dana who want to preserve the history for generations to come.
After fourteen years of friendship, I am so proud of Dana. She continues to give of her time and resources and is incredibly passionate about the city she grew up in. She believes in educating us on the history of those who paved the way and shared their dreams....Thank you, Dana, for your vibrant contagious spirit and your graciousness. You too are a part of this city's history. I am looking forward to this Saturday, strolling the gardens, enjoying the food, the fashion show and of course the shopping. I am wearing J.Crew Cropped pant / Cyn Jun Top / Superga Sneakers /
Virginia Robinson Garden Tour is this SATURDAY, May 14th from 10-4. Tickets can be purchased online at: www.RobinsonGardens.org or by phone from 9-4 M-F at 310-550-550-2068 . They accept all major credit cards. It's not too late to purchase your ticket.
MISSION STATEMENT: The purpose of the Virginia Robinson Gardens is to preserve and promote the historically significant first estate of Beverly Hills for the education and enjoyment of the general public.